Turkish truck manufacturing is typically collaborative. There are very few totally Turkish truck manufacturing plants. In general, foreign brands include a term that implies Turkey next to their brand, such as Mercedes-Benz Turk or Man Turkiye.
Based on my research, BMC and Otokar are two 100% Turkish enterprises that lead the Turkish truck manufacturing sector. Anadolu Isuzu, Ford Otosan, Otokar, and Temsa are among the truck manufacturing companies with 50% or more Turkish ownership.
Turkish Truck Manufacturers
I utilized the "Automotive Industry Association" member list to create the list below. I went through each member company on this list one by one, visited their websites, and listed only those that were involved in Turkish truck manufacturing.
During my investigation, Turkish fire truck manufacturers caught my curiosity. I had no idea Turkey had made so much progress in the production of fire trucks. To avoid confusion, I did not include Turkish fire truck manufacturers' names in this post.
BMC Automotive Industry and Trade Inc., Izmir
Since 1966, the company has been manufacturing trucks, engines, and tractors. In 1996, BMC developed the first 100% Turkish truck. Since 1999, the company has been manufacturing trucks for the defense industry.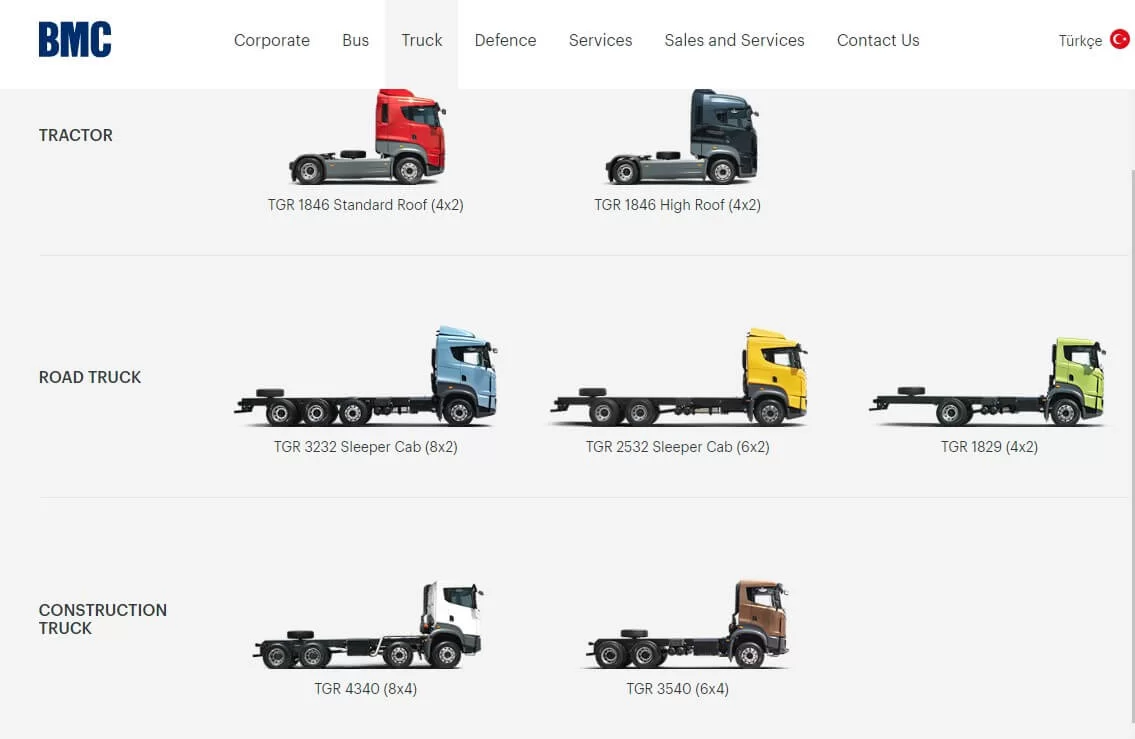 BMC is an expert in commercial and military vehicle manufacturing. Exporting to 85 countries, the company has around 3500 employees. BMC has a say in Turkish truck manufacturing with its production and R&D centers in Izmir, Istanbul, Ankara, and Sakarya.
Anadolu Isuzu Automotive Industry and Trade Inc., Kocaeli
The company, whose activities date back to 1965, started manufacturing trucks with the Japanese company Isuzu Motors Ltd. in 1986. Anadolu Isuzu is a public joint stock company in partnership with Anadolu Group, Isuzu Motors Limited, and Itochu.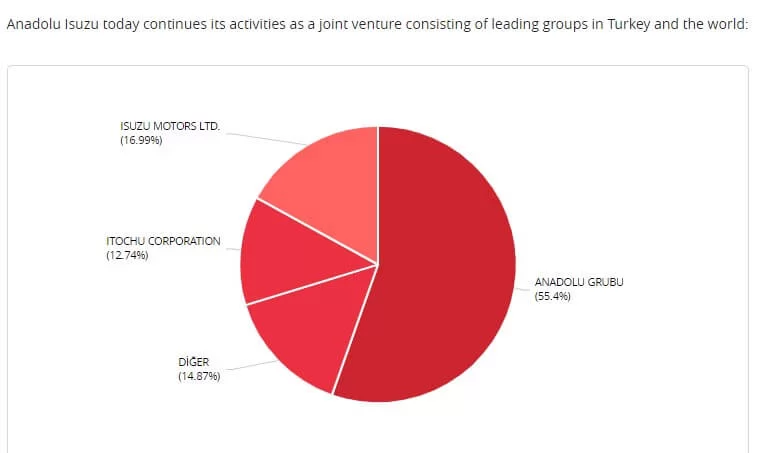 Anadolu Isuzu continues to manufacture and market commercial vehicles such as light trucks, pickup trucks, small buses, and pickups. Turkish users are particularly interested in their vehicles that have very durable engine constructions and are suited for short trips.
Ford Automotive Industry Inc., Ford Trucks, Istanbul
Founded in 1959, Ford Otosan (Ford Automotive Industry Inc.) is a publicly held company (18%) in which Ford Motor Company (41%) and Koc Holding (41%) hold equal shares. Since 2004, the company has been among the top three exporting companies in Turkey. In 2022, vehicles and spare parts worth 6.2 billion dollars were exported from Turkey to 94 countries. There are 1688 R&D employees in the company, among their 20,000 employees. Ford Otosan's most important factories are in Kocaeli and Eskisehir.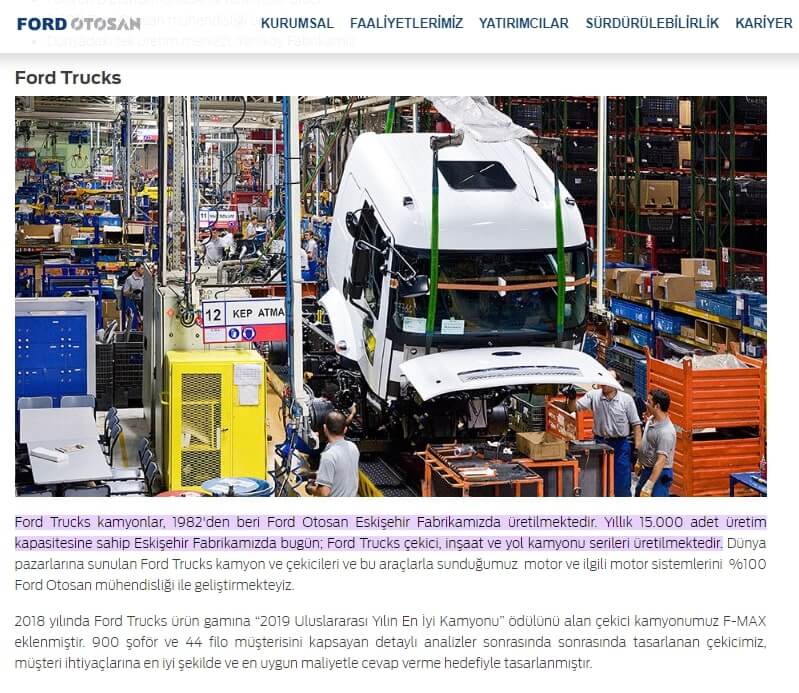 "Ford Trucks" have been manufactured at the Ford Otosan Eskişehir Factory since 1982. The factory has an annual production capacity of 15,000 units and manufactures tow trucks, construction trucks, and road truck series.
Karsan Automotive Industry and Trade Inc., Eskişehir
Karsan was founded in 1966 with 269 investors and 100% domestic capital. It is a Bursa-based automotive company that has been manufacturing light and heavy commercial vehicles since 1998 under the leadership of Inan Krac. It is Turkey's first contract manufacturer, having begun in 2004 with a multi-brand approach in a single facility.
Karsan's Bursa facility is designed to produce 18,200 vehicles per year. The company provides pressing, welding, cataphoresis, painting, and assembly services to automakers such as Tofas, Ford, Oyak Renault, Turk Traktor, and Uzel. Karsan, which is capable of manufacturing 100% electric cars, does not make trucks under its own brand. Karsan, apart from other Turkish truck manufacturing companies, provides an important entry point for companies looking to manufacture trucks under their own brand in Turkey.
Otokar Automotive and Defense Industry Inc., Istanbul
Otokar, which has been manufacturing buses since 1963, is Turkey's best-selling bus brand. In the Turkish truck manufacturing industry, Otokar uses the "Otokar Atlas" model. Otokar is an automotive company that was founded with 100% Turkish capital and is today 45% owned by Koc Holding Inc. and 25% owned by Unver Holding Inc. Otokar's military products are widely used in more than 35 nations, including Turkey, and it has a strong defense sector. Otokar employs approximately 3,000 people.
Temsa Skoda Sabancı Transportation Vehicles Inc., Istanbul
Temsa was established in 1968. True Value Capital Partner in Sweden purchased the company in 2019. Sabanci Holding (50%) and Skoda Transportation (PPF Industry Co., 50%) purchased the company again in 2020. This is an interesting company, and it took me hours to figure out who the true proprietors are. We can say it's half Turkish.
With 1,400 employees, the company manufactures 11,500 vehicles per year in its Adana factory, including 4,000 buses and midi-buses and 7,500 light trucks. Despite emphasizing buses and electric vehicles in company promotional videos, it states on the company's official website that it manufactures light trucks.
Cooperations in the Turkish Truck Manufacturing Industry
In Turkish truck manufacturing, collaborations are quite common. Man Turkey and Mercedes Benz Turkey collaborations have an important place in Turkey's truck production.
MAN Turkiye Inc., Ankara: In 1966, MAN Truck & Bus AG, a German heavy commercial vehicle manufacturer, and Ercanlar Inc. formed a joint venture in Turkey to produce trucks and buses. The company now has two truck manufacturing plants in Istanbul and Ankara. Trucks are built in Ankara, whereas buses are built in Istanbul. 95% of the output is exported to 45 countries, primarily in Europe.
Mercedes-Benz Turk Inc., Ankara: The company was established in Istanbul in 1967 under the title "Otomarsan", and started truck manufacturing by opening the Aksaray Truck Factory in 1986. Today, it operates with two production facilities in the cities of Istanbul and Aksaray. While buses are manufactured in the Istanbul factory, trucks and tractors are manufactured in the Aksaray facilities.
Conclusion
As Pelotek, we do not have solid sourcing experience with the Turkish truck manufacturing industry. I tried to compile a list from their member association in Turkey. Please note that Turkey is highly developed in the auto parts industry. In the truck manufacturing industry, Turkey mainly works with multinational brands. As a result, there are very few Turkish-owned truck manufacturers, and I believe I mentioned them all.
If you are interested in the top manufacturers of Turkey, add "Sectors in Turkey" category to your favorites. My next post in this category is "Turkish Refrigerator Manufacturers".
Frequently Asked Questions